Countdown to CYGNSS Launch December 2016
The Orbital ATK L-1011 Stargazer aircraft touched down at 3:57 p.m. EST at the Skid Strip at Cape Canaveral Air Force Station in Florida. Attached beneath the Stargazer is the Orbital ATK Pegasus XL with NASA's Cyclone Global Navigation Satellite System (CYGNSS) on board. CYGNSS was processed and prepared for its mission at Vandenberg Air Force Base in California.
CYGNSS is scheduled for its airborne launch aboard the Pegasus XL rocket from the Skid Strip on Dec. 12. CYGNSS will make frequent and accurate measurements of ocean surface winds throughout the life cycle of tropical storms and hurricanes.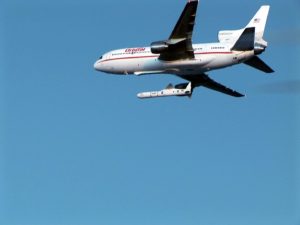 Orbital ATK's Pegasus rocket gets its payloads into space just like a conventional rocket, but instead of lifting off from the ground, the Pegasus starts its trip already in the air. That's because a modified L-1011 airliner carries the Pegasus and its payload – CYGNSS in this case – to about 39,000 feet. Pegasus begins its solo flight by being released from the belly of the airliner.
Five seconds of free-fall ends when the solid-fueled first stage ignites. With its main, delta-shaped wing providing lift and a rudder and elevators on the back steering, the Pegasus noses up quickly and heads into orbit, discarding its first stage after leaving the thick portion of the atmosphere. The second and third stages, also burning solid propellants, take over to place the satellites in their prescribed orbit.
Watch live on NASA TV

Do you have an interesting video that You filmed? Do you want to earn money on your video? By selling, and receiving income from different platforms such as Youtube. Please here is my affiliate link for registration
https://rumble.com/register/rasrad/
Do you have an interesting video that You filmed? Do you want to earn money on your video? By selling, and receiving income from different platforms such as Youtube. Please here is my affiliate link for registration
https://rumble.com/register/rasrad/